We are a Christian educational farm that uses a Charlotte Mason philosophy for teaching children. We believe that parents are ultimately responsible for their children, and our teachers and staff are merely guides who introduce children to things that are good, beautiful, and true. We do short lessons in many subjects so students can experience a true feast of living ideas. The first principle of Charlotte Mason education is that children are born persons; we respect the personhood of each child as being a beautiful creation with the capacity to do good in this world. Because of how we organize our classes, we are able to put children in groups based on ability level, so students are free to bloom at their own pace. We hope you will join us this year!
Important Handouts to Read
Membership
When you sign up for any local class, your family automatically gets a Loft & Field Membership. Memberships include access to the Living Books Library, parent support, early sign-ups, and more. They will expire June 15th, 2024. If you'd like the benefits of membership without taking local classes, we have a "Membership Only" option on our Enroll page. Read more about the many benefits of a Loft & Field membership here.
Library Membership – Your family has full access to our living books library and can check out books. See the Library section below for more details.
The Early Years, Preschool Parent Support Group – Parents of Seeds students are invited to study "The Early Years: A Charlotte Mason Preschool Handbook" by Karen Smith & Sonya Shafer. We will meet for 30 minutes while the Seeds are in class on Seed AM days.
Parent Support Luncheon – The aim of this group is to treat homeschooling like a profession and to provide support for one another. Our agenda will be topical teaching (30 min.), Q&A on the given topic (30 min.), personalized guidance and support (30 minutes), social time (30 minutes). Bring a bag lunch, some childcare is available (donations for our teens are appreciated!).
Members Only Facebook Group – If you are on Facebook, we have a members-only group for parents to share resources, socialize, ask questions, and offer support to one another.
Option for Consults – If you need more support, such as help with your overall homeschool planning or solving specific learning challenges, you can schedule a one-on-one consultation with one of our staff members. These sessions will have an additional fee.
Newsletters – We spend some extra time to provide short, encouraging newsletters to help you persevere in your homeschooling journey.
Earlybird Event Registration – When we host events, we give our members an early window of time to sign up before we open it up to the general public.
Philosophy
It is important that we agree on our educational philosophy and spiritual beliefs before we set forth on such a great endeavor as educating human souls. Have you ever thought about what the foundational belief system and philosophy is of other educational institutions? An American public school? An ivy league college? A language immersion school? Every place of education has a belief system on which it builds the rest of the program.

We are a working farm and educational program that embodies the Charlotte Mason philosophy of education. We believe so strongly in this form of education, that we opened up our farm and are supporting a community of families seeking a similar experience. We want children and families to engage in a living education that encourages joy and wonder in learning. We emphasize seeking spiritual truth, building goodness of character, and earnestly marveling in the beauty of the world and all that it contains. We accomplish this by studying and implementing Charlotte Mason's 20 principles of education and by emphasizing our Christian faith tradition.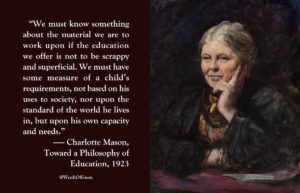 FAQs
Can we come and check out your program to see if we want to join?
Sure! We usually have a grand opening in the summer, but if you miss it we're happy to have you come visit us during a class or open appointment hours. Please email us and we'll set something up.

Can you accommodate special needs students?
Many of our students have various special needs. Our teachers have training and experience with a variety of special needs students. Contact us directly to discuss your child's needs and we'll work with you to help your child be successful!

Should parents stay with their kids or drop them off?
You, the parent, know more about your child and what will help him or her thrive. That means, you are the best person to make this decision! Some parents stay with their kids during classes, some stay nearby in case the child has a need, and most drop their kids off. You can choose what is best for your family throughout the year.

Is this a co-op? Do I need to take turns teaching or do volunteer hours like in a co-op?
No. We are not a cooperative, we are an LLC. We offer classes to children ages 3 to 18 taught by Charlotte Mason-trained teachers. We love the idea of parents taking turns teaching, but one of the potential failure points of cooperatives is that parents offer differing interests, motivations, and time to devote to classes. We provide teachers who are highly motivated and personally interested in their teaching area. When we teach, we bring consistent preparation and passion for the subject area; we strive to provide both a wide and deep feast of knowledge and activities.

Do your classes cover everything needed for a Charlotte Mason education?
No. We have tried to cover the parts of a Charlotte Mason education that many parents find difficult to complete on their own. We encourage parents to stay and watch how different parts are taught in a "Charlotte Mason" way and to feel empowered to continue their own self-education, leading your child by example. The parts we don't teach, we can help you learn to teach in a Charlotte Mason way. Look for our Adult Education – Parent Support opportunities.

Does my child need to bring anything to class?
All students should bring a water bottle marked with their full name. Students with dietary restrictions should bring their own snack. If the class requires a notebook, they need to bring money on the first day to purchase it and bring the notebook every subsequent week. If an assignment was completed at home, remember to bring it to share with your teacher so she knows how to help you continue working toward improvement.

What should I do with my kids age 5 and under outside of their designated class time?
Please stay with your young ones at all times, we are not responsible for watching them. We have had issues with young kids wandering from their parents and engaging with caged animals, destroying books, or entering bedrooms and leaving a mess. It means so much to us that you would help us avoid this additional chaos while here. There is no program for Seeds in the afternoons. Please keep children under age 5 at home or directly accompanied by a parent while on-site.

How should my child dress?
We go outside every day, regardless of the weather. You need to check the weather report and dress your child or send clothes that will keep them comfortable in all kinds of weather (rain coat in rain, snow pants in winter, shorts and t-shirt on hot days, etc.). Especially make sure your child is wearing sturdy shoes that cover the whole foot, we do a lot of running around and working with animals and want to prevent tripping or injury. It is especially helpful if you label clothes with a family name so we can get them back to you instead of losing them in the Lost & Found (a.k.a. "The Black Hole").

What would cause classes to be cancelled? What do we do if they are?
Classes will be cancelled in the case of severe weather or if a member of the Lewis family has a sickness that could spread to others. In the case of a cancellation, we will use the next make-up day that is listed in the calendar. We will only meet on the make-up day if we had to cancel a class.

What should I do if one of my kids is sick?
Please refer to our Health & Safety Protocols, we make a clear list of when to definitely keep your kids home, and when you can make your own decision. It is important that everyone abides by these protocols so we can maintain an atmosphere of trust and health.

Can we use the library or attend events if we are not taking classes?
Yes! Library hours are during class days but we always have someone who can check out your books. Feel free to let your children come and pick their own books and maybe even peek in on a class to see if they might be interested in the future! Events that are listed on the website are open to any local participants.

Can I drop-off and pick-up my child from Nature Adventures?
We want Nature Adventures to include the whole family, but if a parent or guardian can't attend, please email rebecca@loftandfield.com to see if arrangements can be made.

Does my student need to bring anything to Nature Adventures class?
You can choose to have each of your children carry his or her own bag, or you can bring one bag for the whole family. Your family should have the following available: water bottle with family name written on it, nature journals, pencils, some small snacks (like granola bars) in case a child gets overly weak/hungry.

How do I drop-off and pick-up my child?
We require that a parent or guardian physically signs their child(ren) in and out at the porch desk. This is important so we know what parent/guardian is on call that day if something goes wrong, and also so we can communicate with you about how your child is doing in class. We strongly encourage parents to stay for morning announcements at 9:00 a.m. before leaving.

How does lunch work?
We do not provide lunch. Please send a labeled bag lunch with a water bottle. We picnic when we can!
• If you are here for AM classes… Students over age 6 are welcome to stay for lunch but must be picked up no later than 12:50 p.m. if they are not enrolled in a PM Program. Students who are enrolled in a PM program should plan on staying for lunch, with an option for the parent to come eat with them if desired.
• If you are here for Seeds class… Seeds students must have a parent on site with them to either be picked up or stay to eat with a parent at 12:30 p.m. Seeds need to leave by 1:00 if they do not have siblings in the PM class; Seeds left on campus must be actively watched by a parent.
• If you are here for a PM class… Students over age 6 are welcome to come at 12:30 with a bag lunch and eat with everyone here. Or, you can be dropped off a few minutes before 1:00 p.m. ready to start class.

Are you a religious group?
We are not a church. No one is required to adhere to any certain faith or belief to participate; however we are a Charlotte Mason group and many of Charlotte Mason's principles can only be understood or applied with an understanding of Christian belief and history. Teachers do discuss Christian faith and belief and begin each day with a short prayer but no one is required to believe to participate. We only require respect of others' beliefs.

What if I have a question not covered here?
Please contact us at info@loftandfield.com and we will try to help you as soon as we are able.